Hello again.
It's been awhile, about six months or so.
And what have I been doing in that time? you might ask (or might not, but I'm going to tell you anyway).
Well, nothing less than reinventing myself.
So about a year ago, the words were drying up. No stories coming out, just dry sand pouring out of me. I wrote religiously in my journal for a few months instead. Just to keep words coming. I felt I was at a strange impasse in my writing life, as if something was going to change, but I wasn't sure how.
At the time, my husband (going through his own sort of midlife transition) had just discovered a book written by a life coach named Jen Sincero, called "You Are a Badass." I know, hilarious, but stay with me here.
He was so excited and inspired by this book. He kept badgering me to read it. I said, "I will sometime, just not now." I wasn't ready to take life by the horns yet. I was waiting for something, though I didn't know what.
In the meantime, my husband was walking 500 miles over the course of two months in the middle of a cold New England winter to bring awareness to volunteerism. He walked along the roads and highways of our area in single digit weather, holding homemade signs that said "Thank a Volunteer", "If You Volunteer, You Are Awesome," and many others I helped him make that winter.
Who was this guy freezing his buttocks off, waving signs at beeping cars whizzing by? This was so out of the ordinary for my husband, so unlike him, so…well, badass.
I was surprised, a little perplexed, a tad appalled, very impressed. I was proud of him.
Hey, I want to be a badass, too! But how?
Not by walking around with signs. That's his thing. Not with fiction. I felt barren there. And strangely uninterested. But I did want to write something. And be a badass at it. Hmm, maybe I should read that book, I thought.
And around the time I did pick it up, the answer came to me.
It was an email I'd seen years before, from American Writers & Artists, Inc., about learning how to be a copywriter. Back then, I deleted it, profoundly dismissive. I was all about the fiction then. I was a (sniff) "fiction writer", with nose in the air.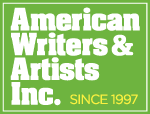 Fast forward ten years, with a few stories under my belt, a couple of (very small) successes, and crickets chirping in my bank account. This year I turned 48. I have no house, no savings, no retirement, I'm making minimum wage at a cash register, living from paycheck to paycheck, and beginning to suspect that that bestseller that was going to make me rich is not forthcoming.
I was suddenly extremely interested in copywriting.
If you don't know, copywriting (not copyrighting) is writing sales copy for businesses. Sales letters, web copy, emails, social media ads, that sort of thing. The sort of thing I never thought I'd be interested in doing. Ever.
It's funny how being in a financial suckhole piques your interest in areas where the money is. And you can make good money copywriting. You can make great money, if you know what you're doing.
So I signed up for the course. And that's what I've been doing these past six months: eating, sleeping, breathing copywriting. I've taken a few courses, actually. And read articles, and watched webinars, and studied copy, and even created a LinkedIn account.
And I've found that copywriting is really pretty fascinating. What makes people buy stuff? It seems an obvious question, but there's more to it than you might think. There's a whole psychology behind it, a process. A system. Who knew? I didn't.
And believe it or not–it's fun. I'm excited by writing again. And the "niche" I picked (the area or industry you want to specialize in) is alternative health, particularly herbs and supplements. Turns out, I'm a wannabe herbalist, as well. So I've also been studying herbs, signing up for online courses at Herbal Academy, learning about adaptogens and women's herbs (particularly helpful for me right now), herbal remedies, etc. I love it.
During this time, I also read "You Are a Badass," by Jen Sincero (and two of her other books), and I'm not exaggerating when I say this book has changed my life. It's changed my whole perspective on who I've been, who I want to become, my attitude about money, what I believe I can accomplish.
I found myself doing weird things like repeating affirmations to myself ("I have the power to manifest my dreams" or "I love money and money loves me"), and making a vision board of my dream home. Hokey stuff like that. But you know what? I don't care. It's given me hope–and the belief–that I can change my life. It's even caused me to believe in a supportive Universe. For a change.
And besides, it's a fun read. Jen Sincero is really funny, and personable, and she says f**k a lot. So I really recommend it.
And no, I don't have my copywriting business up and running yet. I don't have clients yet, and I don't have money rolling in yet. But I will. You know why?
Because I'm a badass.